Our roots and people
In health and wellbeing, grandmothers are often the main bearers of wisdom and family tradition. With roots in the Estonian countryside, that's how Siim Kabrits learned of the family recipe for a chaga-based elixir that his relatives have sworn by for a century.
As one of the drivers behind the non-profit group Organic Estonia, and encouraged by successful forest-berry exports to Asia, Siim Kabrits founded Chaga OÜ in 2014. He was soon joined by his aunt Anu Adermann, a former otorhinolaryngologist and ex-CEO of a medical company.
Estonia is a perfect home for chaga mushrooms. Forests take up half of the small country, 1.3 million hectares of them are certified as organic.
We are on personal terms with each Estonian farmer, forester and woodsman that helps us harvest our mushrooms, herbs, and honey.
The same goes for organic aloe, which is hand-harvested by Enzo Agileri's family business in Northern Italy.
We take pride in full traceability: each ingredient we pick is traceable to its collection point. It's the right thing to do, and it's what our customers around the world have come to expect.
Where does our raw material come from?
Picking chaga and pine buds
Estonia is a small country of 4.5m hectares, 1.3m of which are organic forests. That's where chaga mushrooms and Scots pine buds are hand-picked for our elixir.
Tuhalaane farm, owned by Arvi Salujärv, is one of the oldest homesteads working with us. Arvi (pictured here in his organic forest) picks 2-3cm pine buds in May and June, leaving half of each tree unpicked.
When harvesting chaga, Arvi only picks mushrooms that are at least five years old. Our picking areas in Viljandi, Põlva, Valga, and Võru counties are monitored by the Estonian Agricultural Registers and Information Board.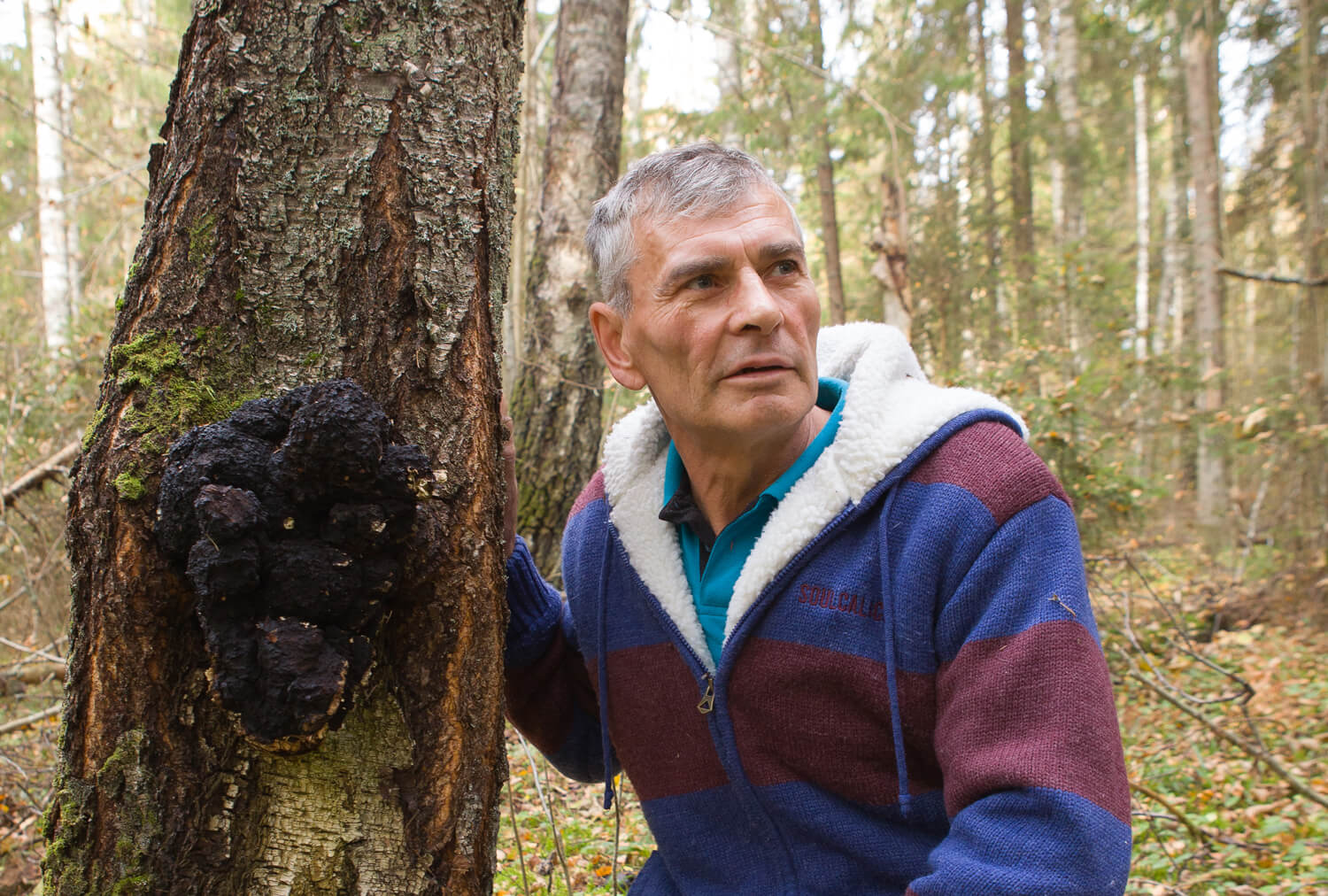 Blackcurrant pickers
In the preparation of Chaga Health Blackcurrant elixir, we use organic blackcurrant juice made from blackcurrants grown in Setomaa. We buy the juice from Margus Timmo, who runs the company Konspek OÜ, which started operations in 2010. Margus made the first preparations for the establishment of a blackcurrant plantation already in 2013. Today it has blackcurrant plantations at three ages: 6, 5 and 4 years. In total, Margus has about 10 hectares of berry fields, which in a good year yields 35 tons of blackcurrants, from which up to 24 tons of juice can be made. Margus has focused only on an organic farming which means that our blackcurrant elixir contains the best domestic and organically grown juice made from organic blackcurrants.
Beekeepers and honey
Our organic honey comes from Everti-Kõrvi, an organic bee farm in Viljandi county. It's been in the beekeeping business for three generations and runs 100 beehives.
Under the watch of father-and-son team Art Õun and Villem Õun, the farm's bees collect nectar from organic forests in a two-kilometer radius.
This means that our honey is made from nectar sourced from hundreds of plant and flower varieties, from wild raspberries to blackberries, pine needles, clovers, and everything in between.
Bees are the busiest between April/May and the beginning of August. That's when Estonian nights are the shortest and our meadows and forests are in full bloom.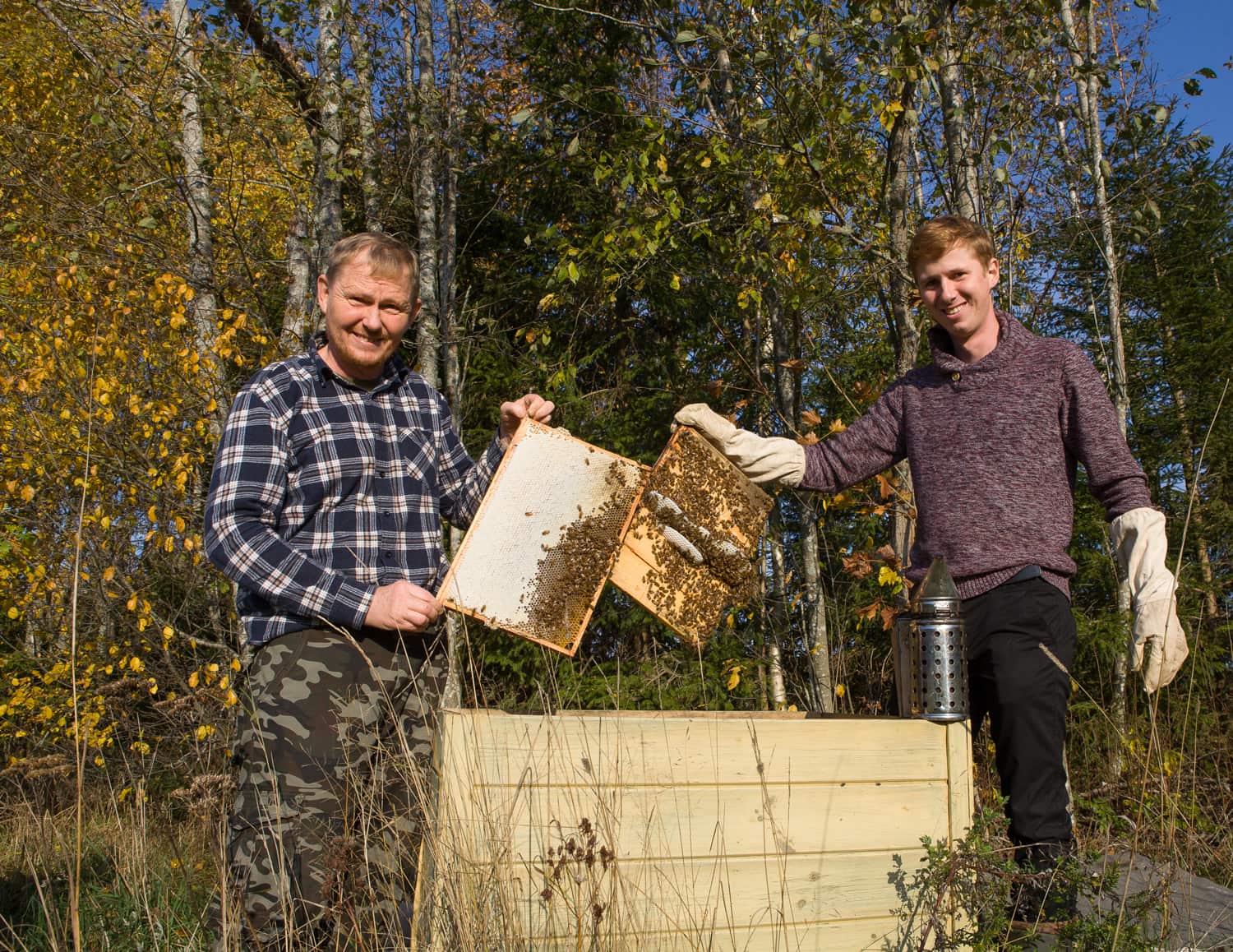 Yarrow pickers
Organic yarrow comes from the Energy farm by the Navesti river in Estonia's Viljandi county. The farm is led by Aivar Siim (pictured) who, in addition to growing medicinal herbs, also runs an eco spa.
Yarrow is a vibrant herb that strengthens the body and grows on any soil in Estonia. Folk medicine has used yarrow to treat coughs, colds, headaches, and general weakness.
Our yarrow is picked on July and August mornings — usually between 10 a.m. and noon, when morning dew has evaporated. As a result, the herb's power and aroma stay the strongest.
Aloe pickers
Aloe arborescens is a more-exotic ingredient in our elixir. Estonians grew it indoors and used it as a medicine in the early 1900s. But as Estonia is too cold for aloe to grow in the wild, we partnered with a family farm in Northern Italy.
Enzo Agileri began growing aloe plants in 2003, choosing aloe arborescens for healing properties that beat aloe vera, its more-famous cousin.
Aloe Arborescens Miller is a particular variety of aloe, native of Cape of Good Hope. The plant can reach two meters in height, with green-gray leaves and green-yellow thorns. It blooms in February and produces beautiful red flowers with tubular clusters.
Since 2005, Enzo added a lab to his farm, producing various aloe-based supplements under the Teo Natura brand. Like his farm, products made in his lab are certified organic.