About the immune system and Chaga Health Immuno elixir active substances
Author: Margus Annuk, Doctor of medical sciences, Chaga OÜ research development projects consultant
Nature has given us a mechanism to overcome diseases. That is the immune system – a very complex and powerful system that has developed over an extremely long time. The immune system protects us from influenza to cancer. The trend in new research-based medicines is that they are not aimed directly at destroying harmful bacteria or mutilated cells, but to intensify our immune system to recognise and destroy them. This, at the same time, saves the rest of the organism and does not allow the side effects of the medicine to express themselves. Nature has actually already itself offered us assistants with similar active mechanisms – herbs.
Strengthening immunity
Plants and mushrooms are unique chemical factories around us. Wisdom is required to use them for the benefit of our health. The knowledge of our ancestors about herbs has reached us through empirical experience and has been proven by contemporary research. It has been confirmed that different plants contain different substances that all have specific effects, among them those that strengthen the immune system.
The Chaga Health Immuno Elixir precisely concerns a combination of different components that are all aimed at strengthening the immune system. The end result is the same, taking into consideration that the active mechanisms of different plants and mushrooms are different. This gives the possibility of being universal – one mechanism has an effect on a person and another on another – we indeed are all somewhat different.
One important mechanism for developing diseases is oxidative stress and thus the capacity to resist it or antioxidantivity. There are many medical conditions associated with the given mechanism. Falling ill, as well as treatment, can be influenced through potential antioxidants. One such powerful antioxidant is chaga. Many research studies have indicated this.
Vitamin C is a strong antioxidant. It is found plentifully in the sea buckthorn, blackcurrants and rosehip added to the Chaga Health elixir, as these berries do not contain ascorbinase that breaks down ascorbate. Thus, the vitamin C content remains high. Additional vitamin C, in addition to sea buckthorn has been added to the Immuno Elixir that in turn increases the antioxidantivity of the product.
Effects of the components of the Immuno Elixir
The supposed mechanism of such sort in the case of Chaga, is precisely the ability to stimulate cells that have the task of destroying structures that are foreign to the organism and in the case of tumour- like processes, to stimulate the so-called natural cell death process. Researchers have identified chaga like and concrete active substances. It has been proven in studies with animals that chaga stimulates the intensification of the activity of concrete blood cells, in the case of a virus attack. The aim is to protect the organism (1, 2, 3, 4, 5).
The effects of sea buckthorn in the treatment of different diseases are precisely foremost connected to the capacity of the organism to improve its own immune system. The existence of specific active substances that stimulate the activation of stem cells (cells that are the predecessors for different cells), is considered to be an important factor. This process in turn supports the improvement of the tissues of the organism.
Trials on patients with psoriasis have shown very promising results for using sea buckthorn as a medicine. The isoharmentin isolated from sea buckthorn is treated as a potential medicine in the treatment of cardiovascular diseases, as well as for the treatment of anti-inflammatory diseases. Finnish scientists have found that an emulsion based on sea buckthorn is good against dryness of eyes. Studies have also shown that sea buckthorn possesses a good anti-inflammatory effect on teeth (10, 11, 12, 13, 14, 15, 16, 17).
Rosehip is also widely known for one of the highest levels of vitamin C (300-4000 mg/100 g). The vitamin C content varies according to the type of rosehip. The cinnamon rose (rosa cinnamea) is considered to be one, with a higher content of vitamin C (21).
100 grams of black currants contain twice as much vitamin C as the daily requirement of the organism or 181 mg. Meta-analysis has shown that administration of vitamin C reduces the risk of contracting respiratory diseases (pneumonia). That precisely among the more elderly population. This is particularly relevant, precisely in this age of viral infections.
There are also high concentrations of vitamins A, B1, B6 and B5 groups. The seeds of black currants are rich in vitamin E. They also have a relatively high concentration of saturated fatty acids, especially alpha and gamma linoleic acid concentrations (22, 23, 24)
Vitamin C, in addition to the aforementioned components, has been added to the elixir. The importance of vitamin C for the maintenance of health is a well-known fact. Its addition to the extract in turn makes a contribution to strengthening the immune system. There is at the same time no risk of overdosing, as excess vitamin C is excreted by the kidneys and it does not accumulate in the organism (25).
It has been noted in the case of yarrow (Achillea millefolium), in in vivo tests (animal studies) that adding yarrow to food rations has improved the creation of immune response. A substance specific to yarrow, has been found at the same time that inhibits inflammatory processes (6, 7)
The polyphenylpropanide polysaccharide complex found in pine (pinus sylvestris), is considered to be a factor that stimulates the immune system (8).
It has been found in the case of honey that honey increases the number of T and B lymphocytes, antibodies, eosinophils, neutrophils and monocytes in cell cultures. This in turn enhances the resistance of the organism (9)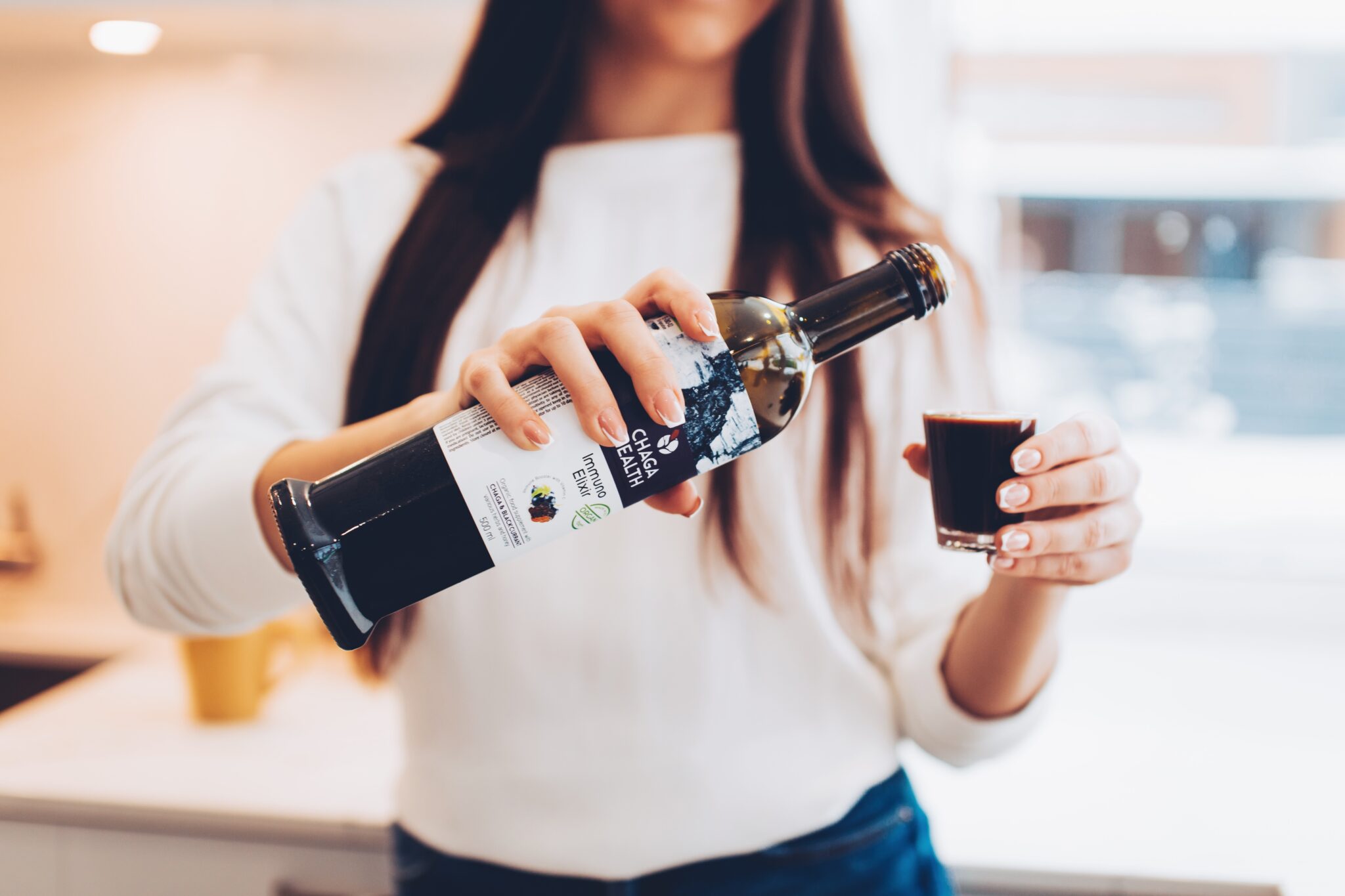 Literature:
Staniszewska J, Szymanski M, Ignatowicz E. Antitumor and immunomodulatory activity of Inonotus obliquus. Herba Pol 2017; 63(2): 48-58, 2017. http://herbapolonica.pl/magazines-files/5500529-Staniszewska%20et%20al.pdf
Mizuno T, Zhuang C, Abe K, Okamoto H, Kiho T, Ukai S. Studies on the host-mediated an­titumor polysaccharides. Part XXVII. Mushroom Sci Biotechnol, 3:53-60, 1996.
https://www.jstage.jst.go.jp/browse/kinoko/3/2/_contents/-char/en
Leontev Yu M, Bortkevich L G, Kapich AN, Strezh Zh A, Abstracts of Papers. The 4th All-Union Congr."Chemical Pharmacology and Mechanism of Radioprotector Action" [in Russian], Moscow. pp. 97 – 98, 1990.
Shashkina M Ya, Shashkin PN, Sergeev AV. Medical plants. Chemical and medicobiological properties of chaga (review). Translated from Khimiko-Farmatsevticheskii Zhurnal, Vol. 40, No. 10, pp. 37 – 44, October, 2006. Pharmaceutical Chemistry Journal Vol. 40, No. 10, pp. 560 – 568, 2006. https://link.springer.com/article/10.1007/s11094-006-0194-4
Pan HH, Yu XT, Li T, Wu HL, Jiao CW, Cai MH, Li XM, Xie YZ, Wang Y, Peng T.
Aqueous extract from a Chaga medicinal mushroom, Inonotus obliquus (higher Basidiomycetes), prevents herpes simplex virus entry through inhibition of viral-induced membrane fusion. Int J Med Mushrooms 15(1):29-38, 2013. https://www.ncbi.nlm.nih.gov/pubmed/23510282
Yakhkeshi S , Rahimi S , Hemati Matin HR. Effects of Yarrow (Achillea millefolium L.), Antibiotic and Probiotic on Performance, Immune Response, Serum Lipids and Microbial Population of Broilers. J. Agr. Sci. Tech.Vol. 14: 799-810, 2012. http://jast.modares.ac.ir/article-23-11024-en.pdf
Yong L, Man-Li ZHANG, Bin CONG, Si-Ming WANG, Mei DONG, Franc¸oise SAURIOL, Chang-Hong HUO, Qing-Wen SHI, Yu-Cheng GU, Hiromasa KIYOTA. Achillinin A, a Cytotoxic Guaianolide from the Flower of Yarrow, Achillea millefolium. Biosci. Biotechnol. Biochem., 75 (8), 1554–1556, 2011.
Bradley WG, Holm KN,Tanaka A. An orally active immune adjuvant prepared from cones of Pinus sylvestris, enhances the proliferative phase of a primary T cell response. BMC Complementary and Alternative Medicine, 14:163, 2014. https://www.ncbi.nlm.nih.gov/pmc/articles/PMC4051390/pdf/1472-6882-14-163.pdf
Timm M, Bartelt S, Hansen EW. Immunomodulatory effects of honey cannot be distinguished from endotoxin.Cytokine. Apr;42(1):113-20, 2008.
https://www.ncbi.nlm.nih.gov/pubmed/18313938
Hou D, Wang D, Ma X, Chen W, Guo S, Guan H.Effects of total flavonoids of sea buckthorn ( Hippophae rhamnoides L.) on cytotoxicity of NK92-MI cells. Int J Immunopathol Pharmacol. 2017 Dec;30(4):353-361
Drapeau C, Benson KF, Jensen GS Rapid and selective mobilization of specific stem cell types after consumption of a polyphenol-rich extract from sea buckthorn berries (Hippophae) in healthy human subjects. Clin Interv Aging. 2019 Feb 4;14:253-263
Wen P, Zhao P, Qin G, Tang S, Li B, Zhang J, Peng L. Genotoxicity and teratogenicity of seabuckthorn (Hippophae rhamnoides L.) berry oil. Drug Chem Toxicol. 2018 Aug 6:1-7.
Boca AN, Ilies RF, Saccomanno J, Pop R, Vesa S, Tataru AD, Buzoianu AD. Sea buckthorn extract in the treatment of psoriasis. Exp Ther Med. 2019 Feb;17(2):1020-1023
Skalski B, Lis B, Pecio Ł, Kontek B, Olas B, Żuchowski J, Stochmal A Isorhamnetin and its new derivatives isolated from sea buckthorn berries prevent H2O2/Fe – Induced oxidative stress and changes in hemostasis. Food Chem Toxicol. 2019 Feb 6;125:614-620.
Smida I, Pentelescu C, Pentelescu O, Sweidan A, Oliviero N, Meuric V, Martin B, Colceriu L, Bonnaure-Mallet M, Tamanai-Shacoori Z. Benefits of sea buckthorn (Hippophae rhamnoides) pulp oil based-mouthwash on oral health. J Appl Microbiol. 2019 Jan 23.
Larmo P, Järvinen R, Laihia J, Löyttyniemi E, Maavirta L, Yang B, Kallio H, Sandberg-Lall M. Effects of a sea buckthorn oil spray emulsion on dry eye. Cont Lens Anterior Eye. 2018 Nov 26. pii: S1367-0484(18)30912-3
Kim SY, Jin CY, Kim CH, Yoo YH, Choi SH, Kim GY, Yoon HM, Park HT, Choi YH. Isorhamnetin alleviates lipopolysaccharide-induced inflammatory responses in BV2 microglia by inactivating NF-κB, blocking the TLR4 pathway and reducing ROS generation. Int J Mol Med. 2019 Feb;43(2):682-692.
Lin SY, Yeh CC, Liang CH, Mau JL. Preparation of Chaga medicinal mushroom, Inonotus obliquus-fermented rice using solid-state fermentation and its taste quality and antioxidant property.Int J Med Mushrooms. 2012;14(6):581-92.
Lee IK, Kim YS, Jang YW, Jung JY, Yun BS. New antioxidant polyphenols from the medicinal mushroom Inonotus obliquus.Bioorg Med Chem Lett. 2007 Dec 15;17(24):6678-81. Epub 2007 Oct 25.
Nakajima Y, Sato Y, Konishi T. Antioxidant small phenolic ingredients in Inonotus obliquus (persoon) Pilat (Chaga).Chem Pharm Bull (Tokyo). 2007 Aug;55(8):1222-6.
Ercisli, S. Chemical composition of fruits in some rose (Rosa spp.) species. Fod chemistry. 2007, 104 (4):1379-1384.
Hemilä, H.; Louhiala, P. Vitamin C for preventing and treating pneumonia. Cochrane Database Syst. Rev. 2013.
Hemilä,H.; Chalker, E. Vitamin C for preventing and treating the common cold. CochraneDatabase Syst. Rev. 2013.
Cannell, J.J.; Vieth, R.; Umhau, J.C.; Holick, M.F.; Grant,W.B.; Madronich, S.; Garland, C.F.; Giovannucci, E. Epidemic influenza and vitamin D. Epidemiol. Infect. 2006, 134, 1129–1140.
Serrano A, Ros G, Nieto G. Bioactive Compounds and Extracts from Traditional Herbs and Their Potential Anti-Inflammatory Health Effects.Medicines (Basel). 2018 Jul 16;5(3):76.